2013-2014, Undergraduate Student - German and Media Studies major, International Studies minor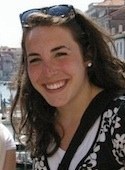 Biography:
I am currently in my senior year at Penn State and am majoring in German and Media Studies and minoring in International Studies. I am in the Schreyer Honors College and will be conducting the research for my honors thesis in Mannheim, Germany thanks to the PIRE grant.
I have had the privilege of working in Dr. Carrie Jackson's lab since last fall. As an RA, I helped with studies that looked at processing and prosody, and grammatical gender. My research that I will be conducting this summer will look at the effects of immersion and cognates on people's ability to produce preferred syntactical structures in their L2.
In addition to being a research assistant with CLS, I intern at the Developmental Center for Adults and tutor at the State College Area high school for German. I am passionate about traveling and experiencing new cultures. I hope to attend grad school in Germany to get my Masters degree in linguistics.