Undergraduate Student: Communication Sciences and Disorders, minoring in Human Development and Family Studies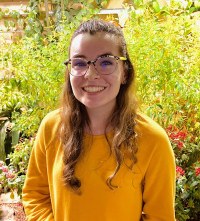 Biography:
Addie is a junior and plans to attend graduate school for Audiology after completing her degree in CSD. She is passionate about her studies and research projects and hopes to someday improve the lives of children and teens with hearing loss. Addie is also a member of the Penn State Blue Band and in her free time likes to watch movies and crochet.
Project Summary:
Addie will be traveling to Nijmegen, The Netherlands to conduct research under Dr. Susanne Brouwer. The project looks at Linguistic Release from Masking (LRM) as a way to test language proficiency. In the Netherlands, Addie will be testing Dutch/English bilinguals with varying degrees of English proficiency on a variety of tasks and analyzing the data as it connects to LRM.