2012-2013, Undergraduate Student - Communications, Sciences and Disorders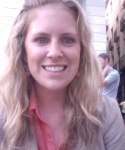 Biography:
Hi, my name is Britney Massimino. I am majoring in Communications, Sciences and Disorders and minoring in both Psychology and Business/Liberal Arts. I am currently going into my senior year at the Pennsylvania State University and plan on graduating in the Spring of 2014. My plan for after graduation is to hopefully continue my education and attend graduate school to study Speech Pathology.
This is my second semester that I have had the privilege of doing research under Judith Kroll and I plan on continuing to do research in the upcoming Fall 2013 semester. For my PIRE project I will be traveling to Granada to examine the consequences of second language learning (L2) for the first language (L1). The planned project focuses on the lexical level. The design of the study has three semesters of testing for this project that will enable both a mini-longitudinal comparison of the Penn State students, before and after study abroad, and a cross-section comparison of the non-immersed students with the students who are in the midst of L2 immersion in Spain.
Outside of the lab, I enjoy running and am currently training to run my first half marathon. A couple of my other favorite hobbies include traveling, scrapbooking, reading, and spending time with friends and family. I grew up in Southern California and when I return home from school I enjoy spending time at the beach and hiking.