2011-2012, Undergraduate Student - Spanish and Crime, Law, and Justice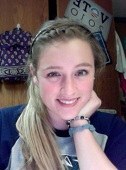 Biography:
My name is Clair Pelella and I am currently a sophomore studying Spanish and Crime, Law, and Justice at Penn State. I am from Binghamton, New York, which happens to be the only place that rains more than Happy Valley. However, I did not choose to come to Penn State for the climate, just like every other Penn Stater it was Joe Pa, the school spirit, and of course, the ice cream that won me over.
For the past six years I have been studying Spanish. It has grown to become more than just about learning a language, for me it has become a passion. Upon beginning my freshman year at Penn State the one thing I knew I was sure about was that I was going to continue studying Spanish. Last semester, I was lucky enough to have the opportunity to work in Professor Giuli Dussias's lab. Although linguistics was an aspect of the Spanish language that I was not all too familiar with, it was something that I immediately knew I wanted to pursue. My future goal is to become a bilingual lawyer, and so learning about the bilingual brain is not only something I find fascinating but it is also going to be extremely beneficial to my professional goals. Which is why when I found out that I had received a PIRE fellowship to conduct research in Granada Spain, I was beyond ecstatic. Not only will it allow me to gain first hand experience working with Spanish-English bilinguals, but I will have the opportunity to learn about, as well as gain an understanding of the bilingual brain, which is going to be an invaluable experience. I relish this opportunity, and I look forward to beginning this project.
Aside from school, in my free time you can find me eating creamery ice cream, attending Penn State football games, reading, and spending time with family and friends. Ever since I can remember I have always had an adventurous side to me. Whether it was my four year old self finding a way to spy on my older brothers or my 19 year old self ordering the most diverse foods on a menu, I have always sought out the adventures in life, and I cannot wait to begin my next one in Granada!