Undergraduate Student: Psychology and Italian, Minoring in Human Development and Family Studies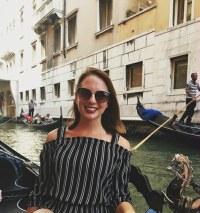 Biography:
My name is Jaclyn Yuro and I am a junior in the Schreyer Honors College at Penn State.  I am majoring in Psychology and Italian and minoring in Human Development and Family Studies.  I am currently a research assistant in Dr. Janet van Hell's Bilingualism and Language Development lab, and this has given me a wonderful opportunity to expand my knowledge of psychology and language, as well as various research techniques. I love working with children and I am especially interested in studying language development and the bilingual mind! When I am not doing academic work I spend my time as an active THON volunteer, as well as pursuing my passion for dance through an organization on campus. I am so grateful for this opportunity and I cannot wait to see how the PIRE program helps me grow!
Project Summary:
For my PIRE project, I will be traveling to Nijmegen, the Netherlands this summer to work with Dr. Sharon Unsworth at Radboud University! For this project, I will study lexical processing and production in the second language (L2) with a particular emphasis on school-aged Dutch children learning L2 English. An overarching and important question in the field of L2 learning is how classroom L2 learners develop L2 lexical knowledge and how this interacts with their first language (L1). This is a particularly relevant question in child L2 learners, as they concurrently develop their L1 lexical knowledge. For this project I will examine this interaction between L1 and L2 by studying the production of cognates in the L2. Specifically, I will assess whether cognates are pronounced more similarly in the L1 and L2 than noncognate words are, based on a phonetic segmentation analysis (VOT).  I am so honored and excited for the incredible opportunity that PIRE has given me to travel abroad and conduct this independent research!