2010-2011, Undergraduate Student - International Politics and French & Francophone Studies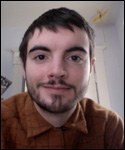 Biography:
I'm an undergraduate at Penn State who now calls State College 'home,' although I claim Boulder, Colorado as where I'm from. My majors are International Politics (International Relations Option) and French & Francophone Studies. I've been fascinated by languages and the world beyond America's borders ever since I could conceptualize them, and that's led me to my academic interests today — and to PIRE!
I'll be involved in PIRE here at Penn State during this spring semester, working with Janet van Hell and Giuli Dussias. Afterwards, this summer I'll be helping to conduct research involving native Dutch speakers at Radboud University in Nijmegen, the Netherlands. The country was one of the highlights for me during my travels in Europe a couple summers ago. In the two weeks I spent there I grew to love all of the traits it and its Northern European brethren share - the vibrant, functional, bike and public transit-friendly cities were a joy to experience - something akin to utopia to an American like myself. I also loved its liberated society and its fascinating language, although they all speak English close to perfectly! With all of this and more, I can't wait to spend 8 weeks getting to know the Netherlands better.
I love academics and learning is probably my favorite thing in the world, but I have many other interests as well! I'm easily enraptured by a good book. I'm a music lover, especially electronic music, which I like to think of myself as an aficionado of. I love to cook (if it's vegetarian), and I try my hand as an amateur gardener in the warmer months. I generally and genuinely like people and I enjoy talking to them. I have the travel bug in me at all times and I try to indulge it - I've been all over the United States and lived in a few different spots around it as well. Beyond that, Europe is the only other continent I've been to. Thanks for reading!