2012-2013, Undergraduate Student - Communication Sciences and Disorders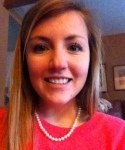 Biography:
My name is Kelsey Halloran and I am currently going into my senior year studying Communication Sciences and Disorders with a minor in Psychology. I am from Oxford, New Jersey. I spend two semesters doing research under Karen Miller and continue to work with her on my PIRE project. My trip to Granada includes looking at L2 Spanish speakers who have been here for at least a semester and seeing how their emersion in the language effects their lenition is /s/ when speaking in plurals.
Aside from school, in my free time I like to work, go to the beach, relax, travel and spend time with families and friends. One of my favorite things to do in life is travel. I have been to Italy, Croatia, and Greece. When I found out about this opportunity I jumped at the chance to participate. I loved the idea that I would be able to travel and get one of the best experiences dealing with research that I can imagine. I am so thankful for this opportunity and hope to come back with as much data and knowledge I can.