2010-2011, Undergraduate Student - Biology and Spanish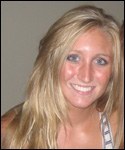 Biography:
I grew up in Butte, Montana. Apart from my immediate family, my entire family resides there. My father is one of eleven and my mother is one of six. I have a younger sister named Makenzie who is a senior in high school and we have three puppies, Chester, Clancy and Berkley! We moved to Center Valley, Pennsylvania seven years ago, when I was a freshman in high school. However, I still call myself a Montanan.
I am a junior studying General Biology and am currently pursuing a Spanish minor. My future aspirations range all over the board from an interest in the Pharmaceuticals Industry to obtaining a Law Degree. At the same time I think it would be an awesome experience to work for the FBI or the CIA. However, I currently sell shoes at Barefoot on West College Ave!
One of my passions is traveling and immersing myself in other cultures. Over winter break, I visited Kuwait and attempted to learn the Arabic language, although it wasn't Spanish, I still enjoyed the challenge and the unknown. I can't wait for what my future entails, I only hope I can find the patience within me to endure the bumpy ride.