2013-2014, Undergraduate Student - Biology major, Spanish, Psychology, and Dance minors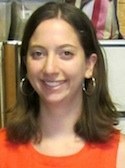 Biography:
I am a rising senior majoring in Biology with minors in Spanish, Psychology, and Dance. For the past two semesters, I have had the pleasure of assisting Dr. Eleonora Rossi with studies that will test bilingualism through the identification of pictures.
My PIRE project will occur at the University of Granada in Spain, where I will be researching how monolingual Spanish speakers process gender in clitic pronouns. My findings will provide a baseline for my study of English-Spanish bilinguals at State College in fall 2014.
When I am not performing research, I enjoy singing, dancing, and playing the piano. Additionally, I am an active member of student government as Administrative Vice President of the Pollock Halls Residence Association and as Secretary of the WISE special living option. I also enjoy being a member of the University Dance Company, a Chemistry proctor, and a volunteer at Fox Chase Cancer Center in Philadelphia, PA.
I am thrilled and honored to have been chosen for this opportunity to perform research in Spain. I am hopeful that my research results will benefit the field of bilingual, psychological, and neurological research. I look forward to immersing myself in the culture and language of southern Spain during my PIRE experience.