2012-2013, Undergraduate Student - Communication and Science disorders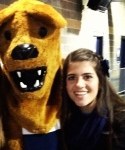 Biography:
I am a rising junior majoring in Communication and Science disorders. I have completed two semesters working for Dr. Carol Miller's in the Child Development lab where we examined theory of mind and executive function development in preschool aged children. This past semester I assisted in data collection in a local preschool.
While at the University of Hong Kong, I will be examining theory of mind development and executive functioning skills in Mandarin-Cantonese bilingual preschoolers. When I return to Penn State, I will compare the bilingual data to Penn State's monolingual data and I predict a bilingual advantage.
When I'm not studying, you will certainly find me busy doing something else! I am a part of the National Student Speech Language Hearing Association (NSSLHA), Health and Human Development Honors Society. I really love volunteering for Best Buddies, where I am paired with a young adult with Down Syndrome. I am also a member of Vol, Penn State's club ballet. I am very involved in Penn State Dance Marathon (THON) as a Morale Committee Member. I am also the former Secretary and future President of Mission Mexico. We travel to Tijuana, Mexico over spring break and volunteer in an orphanage. I have fallen in love with so many wonderful children the last two years. I feel so blessed to have the opportunity to travel to Hong Kong this summer and am very thankful to the PIRE community. I am really excited for this amazing learning opportunity.