2015-2016, Undergraduate Student - Communication Sciences and Disorders and Spanish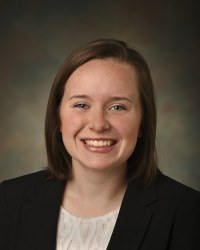 Biography:
My name is Maggie Featherstone and I am a junior at Penn State. I am majoring in Communication Sciences and Disorders and Spanish with plans to become a bilingual speech therapist after graduate school. I have been working in the Language Acquisition Lab at Penn State with Dr. Karen Miller and Dr. Cynthia Lukyanenko since fall 2014. I have truly enjoyed the variety of projects and tasks I have been a part of in the lab while also relating these experiences to my academic course work.
This summer, I will be traveling to Granada, Spain to evaluate /s/ lenition in the comprehension and production of local native Spanish speakers. I will be doing this through an eye-tracking experiment and elicited production task focusing on tense and lax vowels that are paired with /s/. By doing this, I am researching if there is a positive correlation between /s/ omission in production and participants' use of laxing in comprehension.
During my college career I have found a true passion for language through my academic experiences, previous abroad travels, and extracurricular activities. Outside of language research, I enjoy running marathons and long distances of that sort with the Penn State Club Cross Country team. I feel so honored to have this special opportunity with PIRE, and I am so excited to enhance my passion for language through this experience.