2013-2014, Undergraduate Student - Communication Sciences and Disorders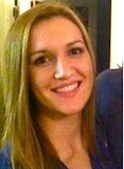 Biography:
I am a rising senior majoring in Communication Sciences and Disorders with minors in Spanish and Linguistics. I plan to graduate in the Fall of 2014 and continue to study Speech Language Pathology in graduate school.
This is my second semester working with John Lipski, studying the Palenquero creole language spoken in Palenque, Colombia. I will be traveling to Palenque to study code-switching among Spanish-Palenquero bilinguals. After I have collected data in Palenque, I will travel to Radboud University Nijmegen, the Netherlands with the PIRE grant. During my time in Nijmegen, I will be analyzing and coding the data I collect in Palenque as well as learning about the previous studies done in this lab, which includes research on code-switching involving a similar creole language.
I am so honored to be a part of the PIRE cohort and very excited to travel and conduct my research experiment. I have learned so much already and I cannot wait to learn even more this summer!