2013-2014, Undergraduate Student - Communication Sciences and Disorders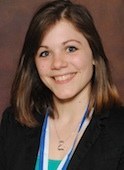 Biography:
My name is Molly Lichtenwalner and I am currently studying Communication Sciences and Disorders. I plan on pursuing a graduate degree in Speech-Language Pathology after graduation from Penn State. I am currently working on my honors thesis with Dr. Krista Wilkinson and looking how the dorsolateral prefrontal cortex reacts to Alternative and Augmentative Communication (AAC). I have also been working with Mike Putnam for the past semester designing a research project to pursue in Germany.
This summer I will be conducting research in Mannheim, Germany and will be looking into how German L1 (native speakers) assimilate sounds that are not present in their phonology. I will be looking into the acoustics of these sounds to determine how and where these sound approximations are taking place. When I'm not researching, I am actively involved in THON as a Morale Committee member. I am also a part of the National Student Speech-Language Hearing Association as well as Schreyer Honors College.
I am so thankful to have the chance to research in Germany this summer am I'm incredibly grateful to the PIRE community for giving me this opportunity. I am beyond excited to conduct my own research project and cannot wait to see how much I learn from this amazing experience.