2010-2011, Undergraduate Student - Spanish and World Languages Education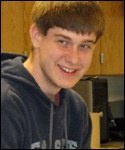 Biography:
I am a current sophomore at The Pennsylvania State University working toward majors in Spanish and World Languages Education with focuses in both the Spanish and the English as a Second Language teaching options. I am currently a Schreyer Honors College Scholar, a Paterno Fellow, which is a specified honors program for students in the College of the Liberal Arts, and have been on the university's Dean's List for every semester I have completed thus far. Prior to my entrance to Penn State, I attended Montrose Area High School in rural Pennsylvania, where I graduated as the salutatorian of my class.
I am involved in a couple of organizations and activities at Penn State. These include the Liberal Arts Undergraduate Council, which discusses and creates opportunities within the College of the Liberal Arts; the Philanthropy Committee of Undergraduate Council, which organizes the Council's involvement in philanthropic endeavors, and the Paterno Fellows Advisory Board, which serves as a liaison between the program director and the students in the program and for which I blog. Outside of academia, I enjoy many different television shows, including How I Met Your Mother and The Office, as well as reading and listening to music, usually not at the same time. I also like to play various board games in my spare time.
During my time at Penn State, I have developed a particular interest in the function and production of language. This has led me to my work with Penn State's Center for Language Science, which has given me the opportunity to become a PIRE grant recipient. Through the research abroad experience that is awarded as a part of this grant, I will better be able to understand the nuances and fundamentals of language. In addition to my linguistic interest, I am curious as to what effects second language acquisition and language development have on a person's educational potential. In essence, an examination of the effects of learning a second language and the implications of relevant research is intriguing to me. These interests tie my undergraduate degree goals together.