2013-2014, Undergraduate Student - Spanish and Psychology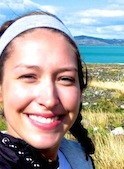 Biography:
I'm a junior double-majoring in Spanish and Psychology. This is my second semester working with the BiLD lab. I have been working as an RA alongside Kaitlyn Litcofsky and Janet van Hell in preparation for my fellowship with PIRE. I really enjoy all aspects of language and want to continue my studies in linguistics. After graduation, I am thinking about applying to graduate schools to pursue a degree in Speech-Language Pathology.
This summer I am traveling to Granada, Spain to conduct research on codeswitching of Spanish-English bilinguals to learn more about how bilinguals use and manage both their languages simultaneously. I am so grateful to have the chance to conduct my own research in Spain, and I give a big thank you to PIRE for giving me this opportunity!