2011-2012, Undergraduate Student - Psychology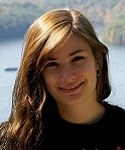 Biography:
I am currently in my Junior year studying Psychology, with a minor in Media Studies. I have been working in Janet van Hell's lab in the Center for Language Science since last semester, and through this experience was lucky enough to receive a PIRE grant for the Summer of 2012. At Bangor University in Wales, I will be studying competing theories on determiner-noun codeswitching in Welsh-English bilinguals. To prepare for this trip, I will be conducting the same experiment in Spring 2012 here at Penn State on Spanish-English bilinguals, in collaboration with Janet van Hell and Giuli Dussias.
Aside from being a research assistant in the Center for Language Science, I serve as the Secretary for Penn State's psychology club, Psych Squad, maintain the Center for Excellence in Science Education's website, and am an active member of the Penn State Ukrainian Society. Over the past couple years, I have taken advantage of the diversity at Penn State gotten involved in various other organizations on campus, such as a THON Rules & Regulations committee, the West Halls Residence Association, the Global Connections Conversation Partner program, and the Pizza Club.
Outside of school and work, I spend as much time as possible cooking new dishes, baking cakes, photographing architecture and nature, reading, traveling around the country, learning about Russian language and culture, playing guitar, and enjoying the outdoors.