Undergraduate Student: International Politics and Spanish,, minoring in Global and International Studies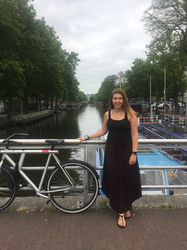 Biography:
My name is Sarah Heeter and I am from Pittsburgh, Pennsylvania. I am an undergraduate student in my third year at Penn State majoring in International Politics and Spanish. Apart from my interest in linguistics, I like running, doing yoga, and reading. I am also involved with THON and I am a Healthy Penn State Ambassador. This summer I will be traveling to Palenque, Colombia with Dr. John Lipski to conduct research on Palenquero negation.
Project Summary:
Lengua Palenquera is a Spanish-lexified creole language spoken in the village of San Basilio de Palenque, a village of a few thousand people near the Colombian port city of Cartagena. My project focuses on Lengua Palenquero's negation systems, which favors clause-final negation. I will collect data through an interactive task done completely in Palenquero thereby avoiding any priming from Spanish, which will be designed to elicit Palenquero negation in a variety of circumstances. We will then be able to determine if there is a systematic variation between pre-verbal negation and clause final negation, or whether preverbal negation is only sporadically used, possibly attributable to Spanish.