2011-2012, Undergraduate Student - Chinese and International Relations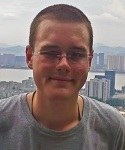 Biography:
I'm currently a sophomore dual-majoring in Chinese and International Relations (National Security Concentration), and minoring in Linguistics and History. I've been working with Ping Li and Benjamin Zinszer in the Brain, Language and Computation Lab since last semester, studying Chinese-English bilinguals. I received a PIRE grant for the summer of 2012 and will be conducting my own research at Beijing Normal University. For my research, I will use both behavioral and ERP methods to study the ability of adult and child native speakers of Chinese, along with people learning Chinese as a second language, to perceive lexical tones. During this spring, I will begin collecting data using the same experiment on beginner and advanced learners of Chinese here at Penn State.
Besides serving as a research assistant in the Brain, Language and Computation lab, I also work at the West Halls Dining Commons. I'm also involved in the Penn State Outing Club and Springfield, an independent THON organization. I'm also currently on a OPPerations Committee for THON. In my spare time I like to study Chinese, read, work out, practice Chinese calligraphy and go camping.