Lester W.J. "Smoky" Seifert Professor of Linguistics, University of Wisconsin at Madison
Director, Center for the Study of Upper Midwestern Cultures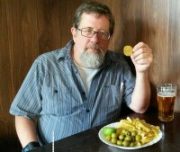 Biography:
Joseph Salmons co-founded the Center for the Study of Upper Midwestern Cultures at the University of Wisconsin – Madison, and is editor of Diachronica. His work focuses on language change and linguistic theory, drawing data especially from Germanic languages, including American English and heritage languages.
Selected Papers:
2016 Joshua Bousquette, Ben Frey, Daniel Nützel, Michael Putnam & Joseph Salmons. Parasitic Gapping in Bilingual Grammar: Evidence from Wisconsin Heritage German. Heritage Language Journal 13(1).1-28.
2015 Patrick Honeybone & Joseph C. Salmons, eds. The Oxford Handbook of Historical Phonology. Oxford: Oxford University Press.
2015 Janne Bondi Johannessen & Joseph Salmons, eds. Germanic heritage languages in North America: Acquisition, attrition and change. Amsterdam: John Benjamins. (Studies in Language Variation.)
2015 Lisa Yager, Nora Hellmond, Hyoun-A Joo, Michael T. Putnam, Eleonora Rossi, Catherine Stafford & Joseph Salmons. New structural patterns in moribund grammar: Case marking in Heritage German. Frontiers in Psychology: Language Sciences. Research topic: The Grammar of Multilingualism.
2015 Michael T. Putnam & Joseph Salmons. Multilingualism in the Midwest: How German shaped (and continues to shape) the Midwest. Middle West Review 1.29-52.